Scram Stuff
Read some articles
Writer's guidelines
Scramtastic links
Where to Buy Scram
Gallery of Cover Art

The Bubblegum Book!
Out this spring, the book that will blow the lid off a genre of rock and roll that has long been crying out for a serious (and sometimes absurd) accounting... Bubblegum! Dozens of contributors have plundered the archives and tracked down those responsible to bring you more than you ever wanted to know about the chewy chewy yummy yummy world of bubblegum music. Click the link above for a sneak peak of BUBBLEGUM MUSIC IS THE NAKED TRUTH.
Sign In?

is a magazine dedicated to rooting out the cashews in the bridge mix of unpopular culture. Since 1992 we have chronicled the neglected, the odd, the nifty and the nuts.
SCRAMARAMA - FALL 2001
The Scram Gang is planning a special event to be held in Los Angeles November 3-4, 2001. We're talking with many of the great artists who've appeared in the magazine, and plan to bring you some truly amazing performers. We can let you know that currently expected to appear are: Sean Bonniwell and the Music Machine, Deniz Tek, The Loons, Red Planet, Harvey Sid Fisher and Bangers and Mash. Watch this space for more announcements. We're looking for folks to get involved, vendors, decorators, film curators, DJs, go-go dancers (with or without their own cages), and anyone whose parents own a ballroom we can use!
EMAIL IF YOU WANNA HELP!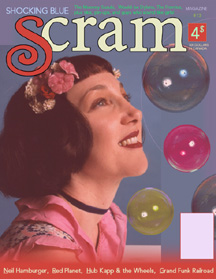 FREE EMBROOKS CD
FOR NEW SUBSCRIBERS
For a very limited time, new Scram subscribers who mention this offer will receive a copy of the great new CD by top British beat combo, the Embrooks. "Our New Day" comes to you from Scram and your friends at Voxx Records.
·DECEMBER 2000·
Scram #13 is now available, with Mari Kono's lovely cover inspired by 1930s issues of "True Story" magazine. The cover cutie's called Janet Klein, and she leads a naughty old timey ensemble called The Parlor Boys. Inside #13: Hub Kapp & the Wheels, the Mooney Suzuki, guys who sing like girls, Northwest instro band The Frantics, Mark Farner & Ideology, Gearhead recording artists Red Planet, Gene Sculatti on the Top 10 "next Dylans," the final days of the Kahiki tiki restaurant, Shocking Blue, Neil Hamburger live, and more. Copies are available for $5 postpaid ($7 overseas) from Kim Cooper, PO Box 461626, Hollywood, CA 90046-1626.
SEPTEMBER 2000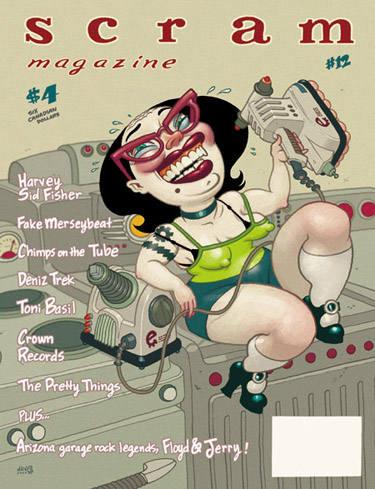 Here's Scram #12, and just look at what Dave Cooper cooked up for the cover. Features include the inside scoop on Arizona garage punk legends Floyd & Jerry... Toni Basil's incredibly hip career (from avant-garde movie star to punk rock, with "Mickey" being the least of it)... Denny Eichhorn interviews Peter Blecha of the new Seattle Experience Music Project rocknroll museum about the weirdest things in their collection and the guy who tried to sell Jimi Hendrix' grave marker... Harvey Sid Fisher talks about his "Astrology Songs" and macrobiotics... A hilarious survey of fake Merseybeat records by P. Edwin Letcher... James Porter runs down the history of legendary budget label Crown... Dick Taylor of the Pretty Things speaks... Deniz Tek, M.D. (Radio Birdman's guitarist) writes about one unforgettable night in the E.R.... plus chimps on TV, retro-styled burlesque, pinups, reviews, and tons of fun.
Scram #11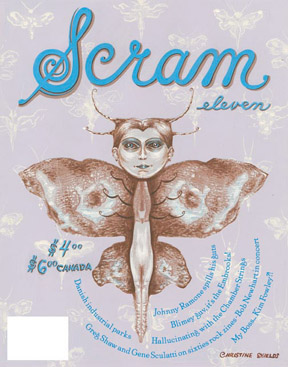 This one features Johnny Ramone, the Chamber Strings, Greg Shaw and Gene Sculatti on the early days of rock zines, "My boss, Kim Fowley," Jack Stevenson on industrial parks and the fake future, and much more!
RELEASED SEPTEMBER 1999
Scram #10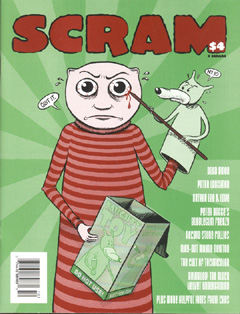 featuring Dead Moon, Peter Laughner, Arthur Lee & Love, Peter Bagge goes bubblegum crazy, Record Store Follies, Way-Out Wayne Newton, The Cult of Technicolor, the black velvet underground revealed and a whole lot more.
---
WANNA BUY A SCRAM?
Back issues of Scram can be yours for $5 postpaid ($7 overseas) from the address below. Special closet-cleaner offer, for a limited time: any THREE normal back issues can be yours for $12 postpaid US (a savings of, uh, three bucks), or $18 overseas, but you must mention this offer with your payment. Or get the full available run of Scrams 3-10 for $30 (normally $40), overseas $46 (instead of $56). Subscriptions: 4 issues for $20 domestic, $32 overseas. Send cash, money order or check payable to "Kim Cooper" to PO Box 461626, Hollywood, CA 90046-1626 .
NEW: Pay by credit card! (this takes you to an auction payment link, but you're smart and can figure it out, right? hint: you'll be paying "scram@bubblegum.net" -- that's us!)
| | |
| --- | --- |
| Scram #9 | Chad & Jeremy on L.S.D., ham acting, Burning Man, Girl Group Battle Royale: The Shangri-Las vs. The Goodees, Drinkin' with the Jacobites, bad television, Scott Miller's favorite embarrassing records, how to be a badass, Dusty Springfield R.I.P. |
| Scram #8 | Apples in Stereo, The Archies, Jackie DeShannon, The United States of America, Jeff "Mothers of Invention" Simmons, Apartment Follies, Snaxpo 98, human lab rats. |
| Scram #7 | Edd "Kookie" Byrnes, The Nightcrawlers, Rob Younger, The Upper Crust's Lord Bendover's etiquette tips, Tony Bruno, Stiv Bators, Russian prophets in East L.A.?, ham radio idiocy, atomic weapons in the home. |
| Scram #6 | Dion, Fortune & Maltese, The Mensclub, Neil Hamburger, beatniks and Rod McKuen, The Loons, The Naked Sax Player, Heavy Metal Parking Lot. |
| Scram #5 | Peter Bagge, Rodent Rock, The Zombies, sex & bubblegum, The Pebbles, Disney's planned community, mortuary cosmetics, Spy Jazz, The Divine Comedy. |
| Scram #4 | Boyce & Hart, The Go-Nuts, Tiny Tim in one of his last interviews, ZOG conspiracies, Mary Lou Lord, Lisa Carver, Townes Van Zandt, thrifting tips, vinyl record care. |
| Scram #3 | The Poppy Family, Jackie & the Cedrics, Disneyland, Brute Force, psychedelic Wizard of Oz concept records, Nancy & Lee and Sonny & Cher, Burt Reynolds' music, teenage vandalism, the early Bee Gees. |
| Having a rave up with scram magazine | massive special issue compiling most historical music articles from our first eight issues, with a hilarious full color Peter Bagge cartoon cover spoofing the Yardbirds & tons of wild tales! ALMOST SOLD OUT. Limited quantities available from Scram for $8 postpaid or try the following venders... Sundazed or Insound that may still have copies. |

Hit me baby,
more times.

·SEAN BONNIWELL OF THE MUSIC MACHINE·
·live at Entertainment Exchange, San Diego, 11/00·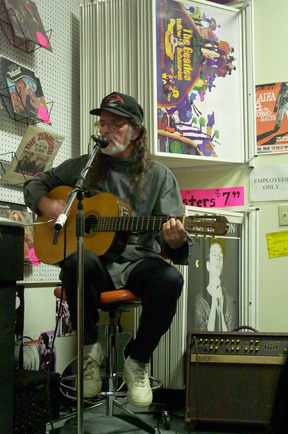 Everything on these pages is © Scram and the individual authors.
---