P>

Scram #12 Launch Party at Zineorama

P>

Starring Harvey Sid Fisher, Bangers & Mash, DJ Gremlin, DJ Leeeeee, and the mixological skills of Doug Miller. Thanks to Martin & Yvette for being such wonderful hosts, and to all the swell folks who came by!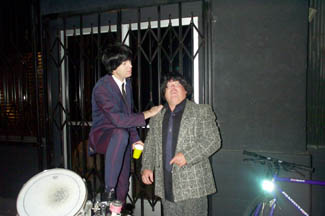 Bangers & Mash fight jet-lag while setting up Mash's drums.
Peter had a little accident with the scissors; Tracy is sympathetic.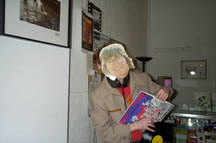 That's DJ Gremlin, channeling the spirit of his dead hero.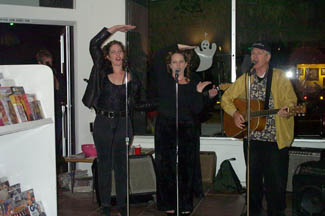 Harvey Sid and the girls sing "F-Word."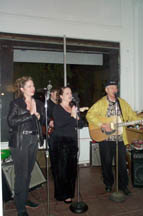 Harvey Sid fills the room with joy.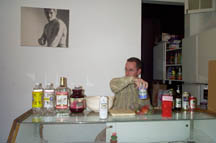 Doug Miller is an expert in all matters sudsy.
Bangers fan Mary Burt's dream comes true (part one).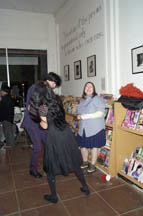 Part two: Bangers actually does the Pimp Jerk with Mary!.
Oh, Mash, we love you, too.
Bangers & Mash find a new fan, a cool little kid from the neighborhood whose name I can't spell. He says of Bangers "He's cool; I could do that!" You sure can!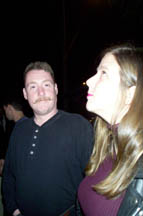 Miss Maggot and her husband Bruce.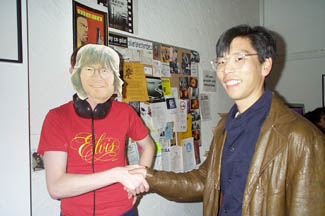 DJs Gremlin and Lee put their rivalries aside in the interest of goodwill.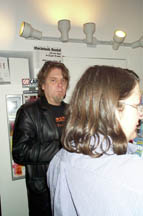 A rare photo of official Cacophony documentarian Jon Alloway.